Messenger App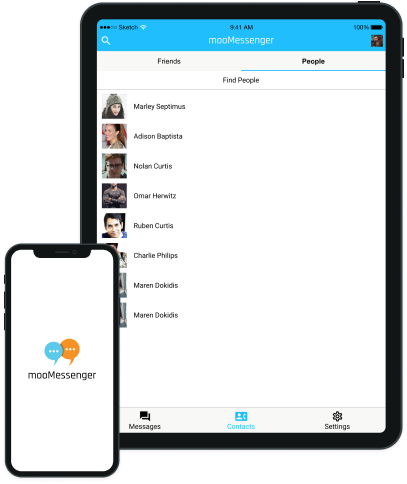 Add Chats & Video Calling to your Dating.
mooMessenger allows your community members to video chat and call each other. It will help you increase site engagement and retention.
Main Features
1-1 chat and group messaging.
You can give the chat group a name for easy to manage your chat history.
1-1 Video and Voice Calling
Typing Indicators make the chat feel like an organic, true-to-life interaction.
User blocking to avoid spam or not wanted interaction with specific members
Multi-language Support allows you to change the chat interface to your local language.
Push Notifications allows your users to receive real-time updates when the app is running in the background or a device is idle.
Chat Moderation and report.
Monitor all chat logs to take further action for spam conversations. Option for members to report a chat conversation and section for admin to manage all of the reports.
User roles settings
Allow site owner to define who can access the video call, voice call
Customizable we do provide custom development service or source code (with a fee) to make the apps work follow your needs.
Media Rich Conversations that allow members can send files, gif, emoji….when chatting with friends.
Seamless integration with existing chat module and moosocial based community site. The apps work as a separate messenger app like fb. It uses the same user logins from the community site. Members can chat or call between apps or between apps and the web like what facebook does.
Encryption and Security: mooMessenger uses WebRTC technology, WebRTC requires a secure connection between the web server that handles signaling and the peer client. This helps to keep the information in that signaling channel secure and makes it more difficult for an attacker to act as a man-in-the-middle and quietly take over the session. Signaling is secured using the HTTPS protocol
Faqs
1. Can mooMessenger work without a mooSocial based website and mooChat-Video/audio chat plugin?
No, mooSocial web and mooChat-Video/audio chat plugins are required.
2. What are system requirements to run mooMessenger app?
+ Chat plugin version 1.7
+ Node.js ( We recommend v6.9.1 or above )
+ STUN/TURN Server is required for this plugin to run. Please google to understand what is STUN/TURN Server.
+ Site needs to be https (Please don't use FREE SSL Cer, please contact hosting to ask if you're not sure. If you use FREE SSL, the chat will stop working after the FREE SSL is auto renew and you have to pay installation service ($10) here for us to help you start the chat)
here are two ways to enable STUN/TURN Server:
+ Setup your own turn server (need a vps or dedicated server to install. ROOT ACCOUNT IS REQUIRED)
+ Use the STUN/TURN Server services such as https://www.twilio.com/stun-turn
To see how to enable STUN/TURN server, please click here
3. Does the installation include in the mooMessenger pricing?
Yes, it's. You should contact the support team after purchasing the plugin, they will help you set it up. You need to provide us the info inside the following link to get the apps published
For android app: https://community.moosocial.com/groups/view/8/topic_id:1249
For IOS app: https://community.moosocial.com/groups/view/9/topic_id:1250
4. Will the source code provide?
No, if you need a copy of source code, please contact us for the pricing.
5. Does the mooMessenger work with chat plugin (web version)?
Yes , 1.7 version or above.
6. Is there a call limitation?
No, there is no call limitation.
7. The mooMessger chat is part of mooSocial app or it's separate like fb messenger?
It's separate like fb messenger.
8. Does it support group call?
No, not for now but will be at next coming version
9. Can I change the logo, color of the chat?
Yes, it's included in our installation service.
10. Will mooSocial team provide custom development for mooMessger?
Yes, we do, please contact us for more details
11. How much does it cost to upgrade new version?
First time publishing to appstore is FREE. After that please purchase re-publishing service here https://moosocial.com/product/re-publishing-service-for-both-apps/
12. Do you offer trial for mooMessenger?
No, we don't offer a trial now. Please check the demo carefully before making a purchase.
13. Can I sign up for Messenger if I don't have an account?
No. You'll need to create an account from mooSocial based website to use Messenger.
14. Do we need to update mooApp and republish to appStore to link it with messenger App?
Yes. at next version, it will be a setting inside mooApp for you to enable/disable.
Demo
Please install app using the below links then go to this site https://moochat.moosocial.com/home to sign up a 2 new accounts. These two accounts should friends then you can test.
2 ways to test:
1. WEB – MOBILE APP: Login first account on app and 2nd account at https://moochat.moosocial.com/home to call to test.
2. MOBILE APP – MOBILE APP: Login first account on smartphone 1 and 2nd account on smartphone 2 and then call to test.
We're using free Turn server for demo site so that the quality of the call is not very stable and the bandwidth is limited. Feel free to contact us to ask if you have any questions when checking the demo
Google Play
App Store